Fraser Island, or K'gari (pronounced 'Gar-ree') to give it its traditional name, is best known as the world's largest sand island, measuring 120km in length, 22km in width, and covering over 1800km². Listed as a World Heritage icon no visit to Noosa is complete without taking a trip there.
What you might now know is that it's also the only place on Earth where majestic rainforests grow entirely in sand dunes at elevations of more than 200 metres. The Island also has half of the world's perched freshwater lakes (100), formed when depressions in dunes fill permanently with pure clear rainwater.
History
Translating to 'paradise', K'gari was an Aboriginal goddess who was sent down from heaven to create the land, mountains, rivers and sea. But K'gari fell in love with the Earth's beauty and didn't want to leave, so she was transformed into a heavenly island – Fraser Island.
The name Fraser Island came later when Captain James Fraser and his wife Eliza were shipwrecked on the Island in 1836. Aboriginal Australians are known to have inhabited the Island at least 5,000 years ago.
Natural environment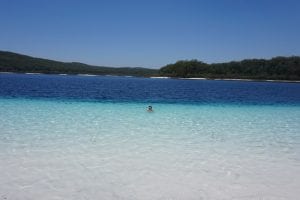 The most well-known lake on the Island is Lake McKenzie, sitting 100m above sea level and whose beach sand is so fine and white it's nearly pure silica. It is home to tiny turtles but in general, all of the freshwater lakes are low in nutrients and therefore support few plants and animals. Visitors are advised to not apply sunscreen before entering the lake as it is detrimental to its delicate eco-balance.
All hills on the Island have been formed by sand blowing. With year-round south-easterly winds, the sand dunes on the island move at the rate of 1 to 2 metres a year and grow to a height of 244 metres.
In addition to stunning dunes that have been accumulating on volcanic bedrock for 750,000 years, Fraser Island has a varied flora including rainforests, eucalyptus woodland, mangrove forests, wallum, peat swamps, and coastal heaths. Pile Valley at the southern end of the Island, is home to 1,000-year-old rough-barked satinays. You can walk through this tranquil area as part of a tour.
Wildlife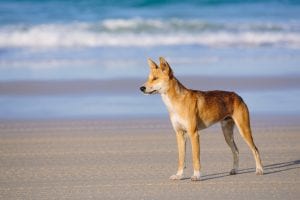 Fraser Island is known for its colony of pure dingoes, which were once very common on the Island but are now decreasing in numbers. To prevent cross-breeding domestic dogs are not allowed on the Island. Visitors are advised not to approach dingoes, which are wild animals, and there are heavy fines for feeding them or leaving food or rubbish on the Island which may attract them.
The Island is also home to hundreds of types of birds, including large colonies of migrating birds, that stop on the Island on their way north and south each year.
Tour Fraser Island
Discovery Fraser Island is a local eco-tourism company with plenty of experience in showing visitors the delights of this magnificent attraction. With a number of tour options, including overnight trips and luxury customised day trips, the company are experts in ensuring that guests enjoy an informative, fun and amazing journey.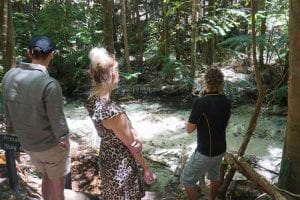 Guides are full of local knowledge of flora and fauna and are passionate about eco-tourism education. They traverse the Island with respect for its heritage while demonstrating admirable sand driving skills! There are plenty of stops for photo opportunities and exploring on foot, and for taking a dip in serene Lake McKenzie before lunch (1-day tour).
Discovery offers a variety of tours and options to suit all budgets, ranging from a 1-day tour to a personalised multiple-day tour with a private guide, to their newest addition, a luxury private charter in a top of the range Landcruiser. Helicopter transfers to the Island are available for an additional cost.


The company has achieved Advanced ECO Certification through Eco-Tourism Australia, an independent organisation who audit their business practices against the Global Sustainable Tourism Council's standards. As part of this commitment, they strive to produce minimal waste in all of their operations and avoid the use of plastic wherever possible, including in the provision of meals and snacks on all of their tours.
It is this dedication to preserving the Island's pristine and ancient environment that has seen Discovery become Noosa's premier Fraser Island tour company.
How to book

To book, please contact Discovery Fraser Island on (07) 5449 0393 or email res@discoveryfraser.com. Their office hours are Monday – Sunday, 9am – 5pm.
Alternatively, our Sunshine Beach Accommodation booking consultants will be happy to assist you and liaise with Discovery on your behalf.
Note: Tours are suitable for all ages, but guests should note that the rougher inland terrain on the Island may not be suitable for the less physically able as the sand roads can be very bumpy in places. The kids will love it though! Check suitability with Discovery if in doubt before booking.