Love learning how craft beer and fine spirits are made? Intrigued to try local brews? Keen to try delicious locally sourced and seasonal food? Then it's time to go on a Noosa brewery tour!
There's loads of amazing breweries and distilleries that can be visited as part of an organised tour, or you can pick the ones that take your fancy and design your own Noosa brewery tour.
Here's a great selection of breweries to get you started.
Land & Sea
Land & Sea Brewery in Noosaville and 'Fortune' Noosa Heads Distillery unite to share their passion for great craft beer and fine spirits with you!
The lovely environmentally conscious people at Land & Sea care about the natural environment, which is visible in their solar powered building and ingredients, which are locally and sustainably sourced. Tickle your tastebuds with a Brewery grazing board, chicken wings, Angus steak and falafel bowl to name a few!
Go on a brewery and distillery tour and delve into the action where you'll learn about their methodical approach and in-depth knowledge into how they produce their craft beer and fine spirits. Each tour is designed for your interests, whether it be traditional distilling methods or the intriguing life cycles of yeast.
For 90 minutes you'll be guided on an immersive experience and will get to sample a tasting paddle of 'Fortune's' fine spirits and Land & Sea's craft beers.
Tours run Saturdays from 11:00am – 12:30pm. Everyone will receive a FREE craft beer tasting paddle and a fine spirits' tasting paddle!
Terella Brewing
Terella means "Little Earth" and was born from a vision of a dream brewery inspired by science, a love of beer and connection to the local land. So, Terella Brewing, in North Arm, offers you a taste of rural life between the hinterland and farms of the Sunshine Coast, surrounded by crops and free roaming cattle. Their concept is based on a sustainable cycle – "producing what we need and using what we produce".
Get the family together and explore Terella's very own farmyard. All their animals are rescues, surrenders or orphans and many have been hand raised from babies. They all have names and are very tame, living in a fully enclosed setting where they can be petted. Tickets are $6 and entry is Saturday and Sunday: 9 – 11.30am.
Relax in the Brewery Taproom, where you can taste Mango XPA, Session Ale, Euro Lager, Pale Ale, Hazy IPA and Mad Dog Ginger Beer. Every Saturday and Sunday from 1-3pm, there's live music in the Brewery. Enjoy a coffee and cake or sample some of our great beers brewed fresh onsite each week. There's cheese boxes to share, kids snack boxes and bar snacks and on Friday to Sunday the local food trucks will serve you up some delicious food, which changes from week to week.
Get here in less than a 30-minute drive from Noosa.
Eumundi Hotel
In the quaint hinterland village of Eumundi, you'll discover the iconic Imperial Hotel, which has welcomed people since 1911. Home to the Eumundi Brewery and Eumundi Distillers, this majestic Queensland hotel offers a fabulous menu with all the pub classics, along with a selection of contemporary dishes.
Eumundi Distillers was established in 2020 and produces small batch, handmade spirits using the best UK juniper and the finest botanicals mixed with local Cooroy Mountain spring water. They support local farmers and growers wherever possible to ensure the freshest produce is used and truly unique Australian spirits are produced.
Book your free 15–20-minute Eumundi Brewery Tour and Taste to explore the brewery. Hear about the history of brewing in Eumundi, discover what makes the craft beers great, learn about the beer making process and sample one of the beers.
Eumundi Hotel is just over 20 minutes' drive away.
Boiling Pot
Boiling Pot Brewing Co in Noosaville develops the best beers to suit Noosa's sub-tropical climate and were inspired by the passion for creative, experimental and innovative craft brewing happening all over the world. Refresh yourself with a Guava Sour, Bat Migration Black Lager, Mango Passion Sour or Gentleman's Ale to name a few.
Closer to home, Boiling Pot Brewery is inspired by Noosa's very own natural 'Boiling Pot' in Noosa National Park. Check out this rock formation in the sea that looks like a bubbling pot of water at the Boiling Pot lookout.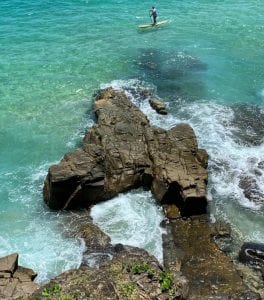 Choose from a delicious range of traditional house-made pizzas including gluten free and vegan options. The menu is inspired by European cuisine and the dishes are created to pair with the beers. Get a selection of plates and platters that are fab for sharing like local calamari or smoked trout, spanner crab crostini, mixed vegetable platter and rosemary & thyme salt fries.
Holiday Accommodation Sunshine Coast
Stay within easy reach of the fantastic breweries, where you can choose to drive, catch the bus or book a Noosa brewery tour.
Our Sunshine Coast holiday accommodation is spread throughout Noosa's eastern beaches and many of our homes offer spectacular beach views.
Cheers to your Noosa holiday!
Featured image: Land & Sea