The Noosa Hinterland stretches from Doonan to Eumundi, out to Kin Kin and Cooran, and to the edge of Mary Valley. Within this magical sphere is escapism at its finest!
It's not only about the places you visit, but also the journey getting to them. Escape to the Noosa Hinterland and feel the magic. The Hinterland is brimming with enchanting scenery, conjuring a feeling of being at one with the surroundings.
We've picked three small towns (Pomona, Eumundi and Cooroy), hidden away in the Hinterland and less than 30 minutes from the heart of Noosa. And we've chosen a selection of treats for you to visit in each town. All you need is a car and plenty of time…
Happy holidays in the Hinterland!
Pomona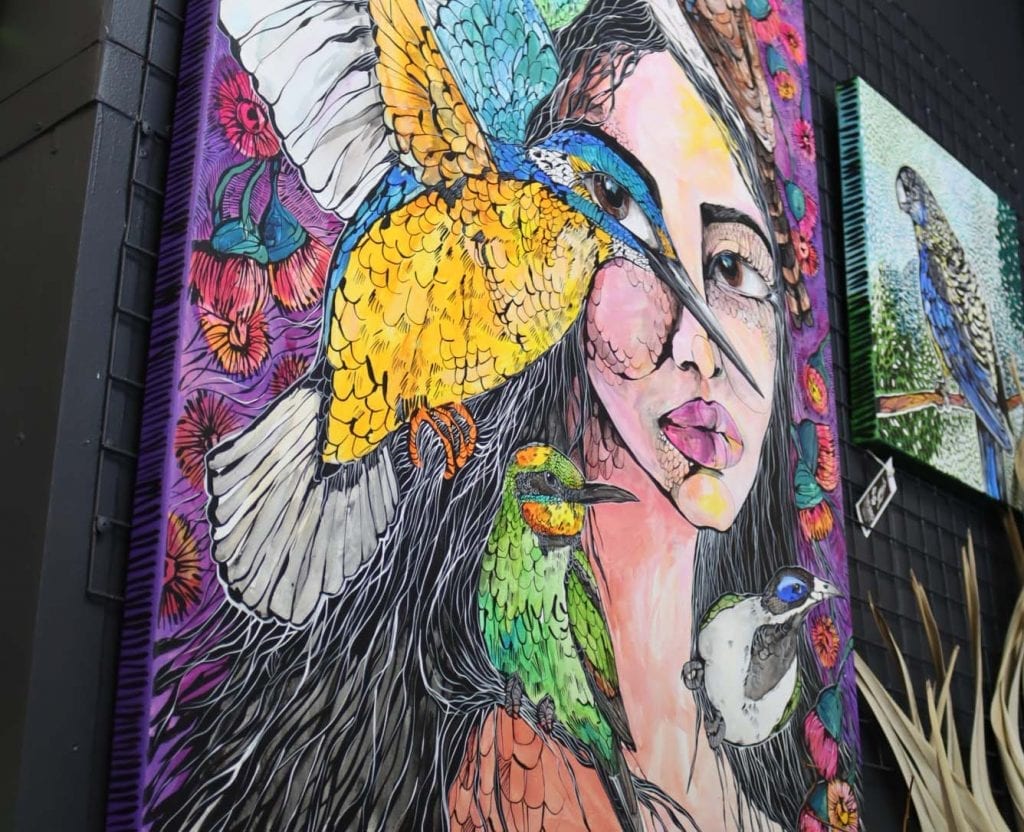 Snuggled at the base of Mount Cooroora, Pomona is aptly named after the Roman goddess of fruit and orchards. You can sample the old country vibe mixed with some creativity, because the town has a beautiful collection of heritage buildings, set within beautiful surroundings. Pomona is only 30 minutes' drive from Noosa.
This Bird Florist & Creative Studio
This Bird Florist & Creative Studio is a beautiful working art studio, floristry and shop that's bursting with colour. Created by Tia Carrigan, the studio brings together her passions in one space, so that you can be thrilled! Choose from organically created one-of-a-kind floral arrangements, gifts and artwork. Your recipients will be thrilled too.
Take a little bit of Pomona home with you.
Pomona Distilling Co
The Pomona Distilling Co is more than just a distillery, it's about presenting the enchanting village of Pomona to the world and unique small-batch spirits focused on quality rather than quantity. Master Distiller and owner, Robin Yates has been crafting this concept for 40 years. Born out of his passion for the alchemy of spirits while studying to be an Industrial Chemist and distilling in the back of the chemistry lab.
Robin experiments with gin blends using native organic botanicals, some foraged straight from his Pomona farm. Join the Pomona community and get a taste of their spirit and pride through the venue's rich heritage and history. Their story is a testament to respecting and loving the environment, people and fine, smooth Gin.
Set in the original Pomona Bakery, dating back to the early 1900's, you can indulge in earthy food inspired by Thai street food flavours in the Bistro. Celebrate in the Garden bar, featuring an art gallery, stunning timber arbour, wine cellar and rustic Stillhouse – home to an enchanting 200L copper still!
Taste buds tingling? Feast your eyes on the menu!
The majestic theatre
The Majestic is the world's longest running silent film theatre! This is one of the few pre-World War II picture theatres remaining in Queensland that have not been demolished or adapted to other uses. So, travel back in time and see a silent film. Films show every Saturday at 12pm.
Noosa Shire Museum
Founded in 1985, the museum was setup to preserve the rapidly disappearing past. Located in the old Shire Chambers, the displays include photographs of important moments in Pomona's history; a post office exhibit, and a room dedicated to the original inhabitants of the area, the Gubbi Gubbi people. You'll uncover fascinating stories and artefacts that reveal the area's local history.
Pomona Bakery
There's nothing quite like the smell of baking bread. Try Pomona Bakery, Famous for its award-winning pies, awesome fresh bread, decadent sweets, and delicious coffee. Owned by Anthony Hooymans, an Australian born, European style baker with over 25 years of experience.
Eumundi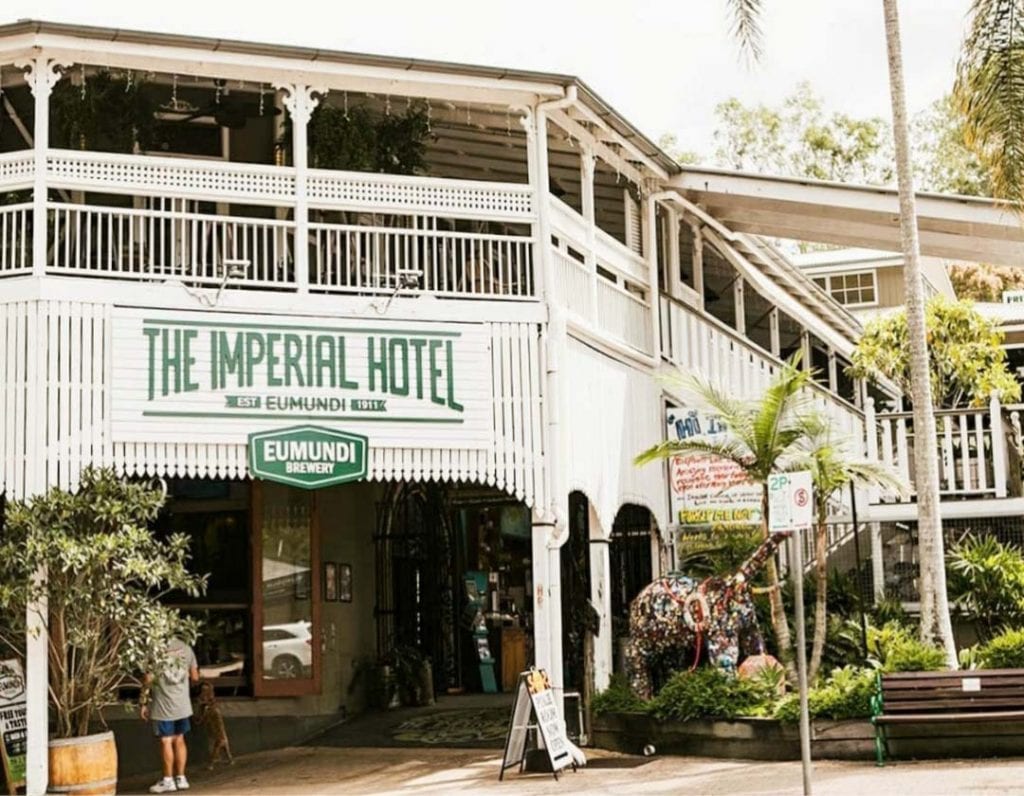 Eumundi is also just a 10-minute drive from Cooroy and is a vibrant town that's attracted musicians, artists, sculptors, glass makers and writers to its natural beauty, energy and space for solitude. For a small place, Eumundi has an eclectic array of quirky shops and cafés.
Imperial Hotel and Eumundi Brewery
Get a sensory overload with colourful, creative décor and murals, wide verandas, sensational beer garden and relaxed vibe. Now to the brews. Taste Eumundi Brewery Lager and Eumundi Brewery Pale Ale – firm favourites with locals and tourists!
Or book a 1-hour Eumundi Brewery Tasting Tour to explore the 100-year-old hotel and brewery. Hear about the history of brewing in Eumundi, learn about the beer making process, and set you taste buds alight with the 'tasting log' of the local brews (FYI, Eumundi is an old timber town).
Or come and listen to acoustic sets in the super chilled beer garden all weekend!
Deadly Expresso
Located at the top of the Pavilion Markets is Deadly Espresso – a meeting place and a café – with a menu that showcases native Australian botanics, fine coffee from fair trade, organic, carbon neutral beans. And most importantly, it's creating real change.
Café owner, Terri Waller, is the founder of community development organisation, Sev Gen Indigenous Corporation, the brilliant social enterprise model behind Deadly Espresso that makes it no run of the mill café! Sev Gen is short for "Seven Generations", an Indigenous way of thinking that says we must consider that our actions and deliberations of today, will affect our people seven generations into the future, whilst drawing on the wisdom of seven generations past. It's open from 9am – 2pm Wednesdays and Saturdays (Eumundi Market Days).
Berkelouw Book Barn and Café
Visit the oldest bookseller in Australia. And be charmed by this quaint book barn and café that offers a comprehensive selection of new books, including new releases and imports that are not available from Australian publishers. Or discover a rare find as you rifle through over 100,000 second-hand books, specialty and early out-of-print titles.
Why not enjoy a coffee and yummy homemade food whilst you peruse books that are packed to the rafters in this delightful little barn?
Street art trail
Eumundi is full of colourful art throughout its streets. So, take the time to walk around town, turn corners, duck into alleyways, carefully take note of buildings and open your eyes to all Eumundi's wonderful street art.
If you're in need of a creativity hit and don't want to miss a single piece of art then…
Check out the street art trail map
Eumundi Style
Fancy yourself some Eumundi Style? Then shop the clothes that the locals love to wear, suiting the sub-tropical climate and lifestyle. They specialise in natural fibres and Australian designers.
Cooroy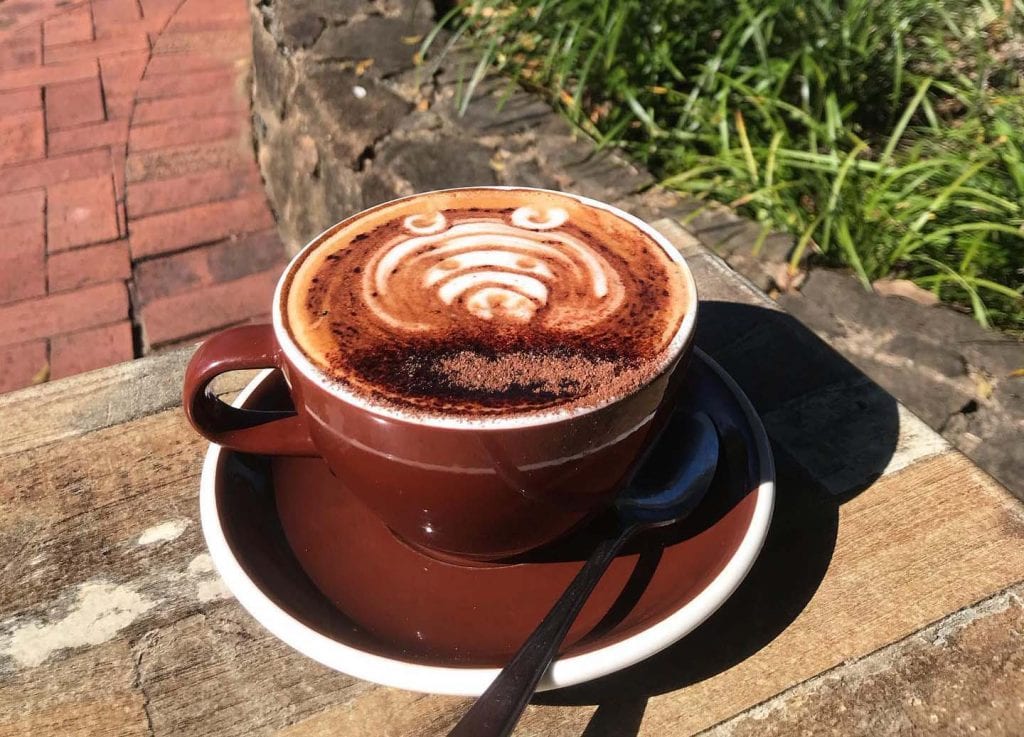 Just a 10-minute drive from Pomona is Cooroy, nestled between Black Mountain and Lake MacDonald. This little town is famous for its Cooroy Mountain Spring Water, which is sold all over Australia.
Cooroy Harvest Fresh
Stop for a coffee at Cooroy Harvest Fresh café – it's more than a fruit shop! They source their produce from local and regional areas at every opportunity. They also offer excellent coffee, organic and gluten free food, plus organic beauty and cleaning products.
Butter Factory Arts Centre
The Butter Factory Arts Centre is a converted butter factory dating back to 1930. It specialises in exhibits by local artists and potters, some of which can be purchased. Come and get a sense of the community and experience a place where the arts are accessible and dynamic.
The Shed at Cooroy
This is quite literally a shed packed with antiques, and vintage and second-hand treasures. Have a good rummage around and unearth something special!
Find weird and wonderful goods
A little shop of soul
Take some time out for a little 'you time'. Down a quiet lane you'll find Cooroy's only Book shop Café. Remember to bring in your old books to exchange for other second-hand books great for travellers. Unwind with an organic Fairtrade coffee or a locally made chai. And why not sample a delicious gluten-free and vegan cake too?
Lake Macdonald and Noosa Botanic Gardens
Take off to the nearby shores of Lake Macdonald, a tranquil place for a picnic and leisurely walk. It's a special place to absorb the abundant nature and natural beauty. The lake is bordered by Noosa's Botanic Gardens, which are bursting with native and exotic species.
Stay on the beach, play in the Hinterland
After your Noosa Hinterland escape, you can unwind to the sounds and smells of the surf. Where better to do just that than in one of our beach holiday homes?
There's so much to see and take in. So, give yourself the time and the Hinterland will give you the space to indulge your senses.
Are you ready for your next escape?
Choose from a stunning range of properties that are just moments from the beach and within easy reach of Noosa Hinterland.
Or wake up to the sounds of the ocean in any of our serene picks across Castaways, Peregian, Sunshine or Sunrise beach accommodation…
Images: The Imperial Hotel, Cooroy Harvest Fresh