Whether you're an avid hiker or cyclist, or simply like to amble along taking in the scenery, we've listed the Sunshine Coast walks and bike rides that are worth the effort!
Noosa's not just beaches, fine dining and shopping, it's also an adventure-seekers playground. Stretching from the centre of town to the Hinterland and beyond into the Great Sandy Biosphere, this special part of Queensland has it all.
The Noosa region is awash with stunning scenery, wildlife and quaint towns that can easily be explored by bike or by foot. So, start planning and get yourself biking and hiking around Noosa and beyond to experience the great outdoors!
To get you started, here's our guide to the best Sunshine Coast walks and bike rides.
Wooroi trails in Tewantin National Park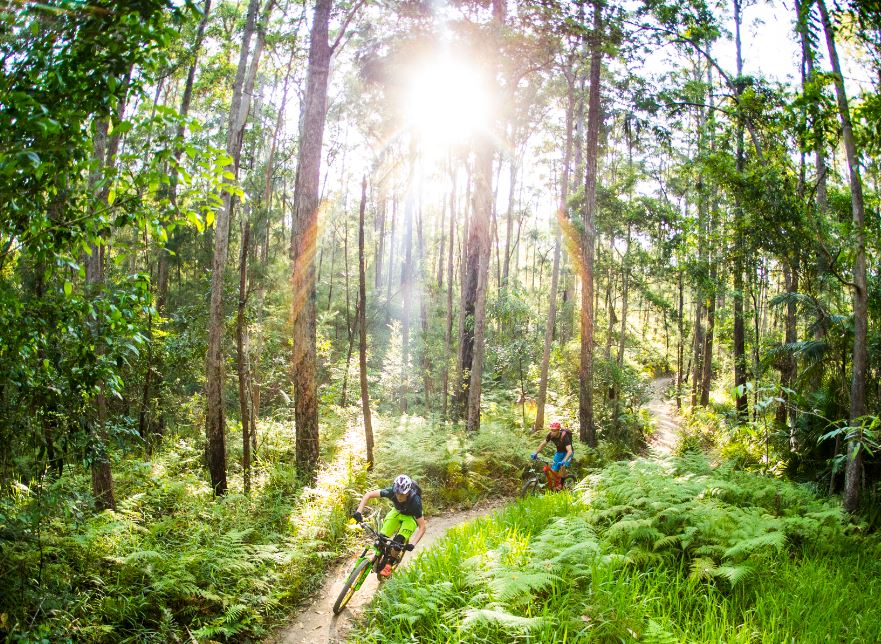 There's 30kms of epic trail network in the lush Tewantin National Park, making it a great place to mountain bike and set yourself free! Enjoy the rush of eucalypt, pine, and sub-tropical pockets of bush as you whizz by, offering you beautiful, constantly changing scenery.
There're 11 trails to choose from, ranging from easy to difficult. So, depending on your experience and fitness level, you can start with the tracks around the Wooroi Day Use Area, which is renowned for its stunning environment and excellent single-track rides.
As the Wooroi trails overlap in certain areas, you can combine a few and customise your ride. Beginners will love the Glider & Secrets (part of trail 2,3,5 & 7), while those more experienced can get their adrenaline pumping on the Trailblazer (track 8) and Milkmaid (part of trail 6 & 7).
The Wooroi trails offer local Sunshine Coast walks that consist of wide and mostly smooth fire roads, wide dual use pedestrian/mountain bike trails, narrow single tracks and flow tracks with jumps and berms. Eager to get those legs pumping?
Noosa Trail Network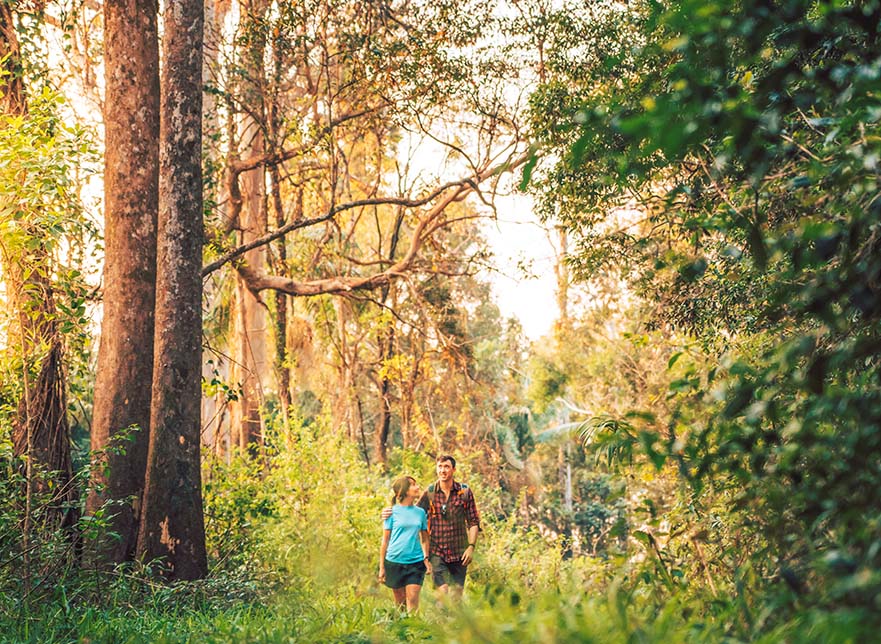 Mountain bikers, walkers and even horse riders can all enjoy the epic Noosa Trail Network through the incredibly scenic Noosa Shire. The network is made up of eight trails ranging from an easy 5km circuit to 26km tracks that are best split over two days.
However you want to travel the trails, you'll be treated to unbelievable Noosa Hinterland scenery. You'll see working dairy farms, horse studs, timber plantations and macadamia groves as you traverse rugged countryside tracks. These Sunshine Coast walks and bike rides will take you over cattle gates, through rows of towering eucalyptus trees, and into rural towns where you can refuel with coffee and cake.
Plan your picnic or take a little break at one of the five lookouts along the trail including, Lake Cootharaba, Twin Hill and Lake Cooroibah. Perched up high, you'll be dished up a generous serving of mountain views that mark the landscape.
Not far from Noosa, you could explore the entire loop over a week, or take a day trip to one or two of the Hinterland towns and take the shorter trails.
Bike hire Noosa
If you're planning on tackling the trails by bike, then there's plenty of places to hire a bike throughout Noosa.
Check out Bike On, Le Cycle Sportif and Eco Tekk!
Mary Cairncross Reserve walk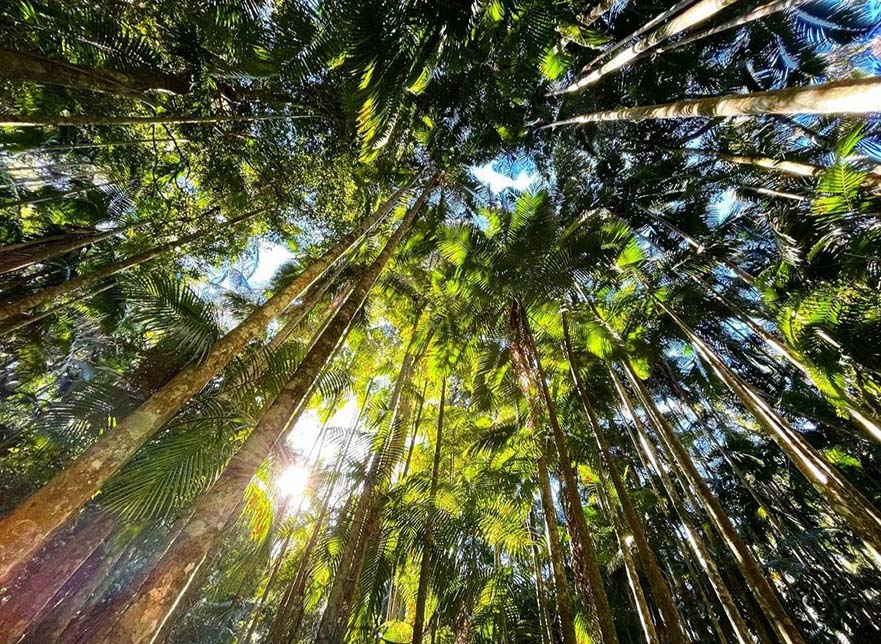 This is the perfect walk for everyone! The Mary Cairncross Scenic Reserve encompasses 55 hectares of subtropical rainforest overlooking the incredible Glass House Mountains. The reserve is a living museum of the remnant rainforests that once covered the entire Blackall Range.
Marvel at the many rare tree species, see the rich variety of birds, the rainforest Wallabies (Pademelons) and even the endangered Richmond Birdwing Butterfly. Throughout the walking tracks there's boardwalks, bridges, seats and viewing platforms where you can take in the natural beauty and read information about various species.
The Mary Cairncross Walk is split into three easy loops of 1.3km and 1.7km, which you can combine to see the whole reserve. A large portion of the track has disabled facilities.
Learn more secrets about this magnificent reserve in the Discovery Centre and be spellbound by the unrivalled views of the Glasshouse Mountains views before unwinding with a tasty lunch at the café.
The Sunshine Coast Great Walk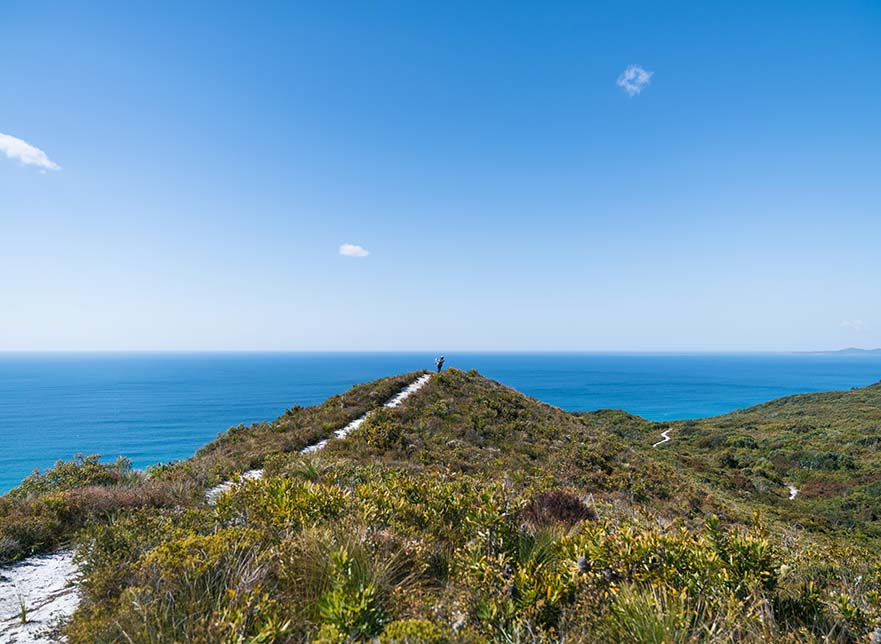 Are you feeling fired-up to take on a longer walk? Then the Sunshine Coast Great Walk could be just what you're looking for. Covering 58.8km, this incredible walk can be done over 4 days. But if you just want a little taster, it can be broken into shorter walks taking 1 to 7 hours.
Located in warm sub-tropical rainforest, you'll be entranced by tall open eucalypt forest, Bunya Pines and picturesque waterfalls and creeks nestled within the Blackall Range. Peer into gorges, relax by rock pools and take in some stunning views at the lookouts along the way. There are over 100 species of birds, around 70 reptile species and over 30 frog species in this magical hinterland habitat.
Notice how the warm subtropical rainforest plants change to the eucalypt forest as you ascend within these three protected national parks—Kondalilla, Mapleton Falls and Mapleton. Your journey across the Maleny/Mapleton Plateau and the Blackall Range shows you some of Queensland's most incredible natural wonders. As one of the best Sunshine Coast walks – are you tempted to get out there?
Get the Sunshine Coast Great Walk map
The Cooloola Great Walk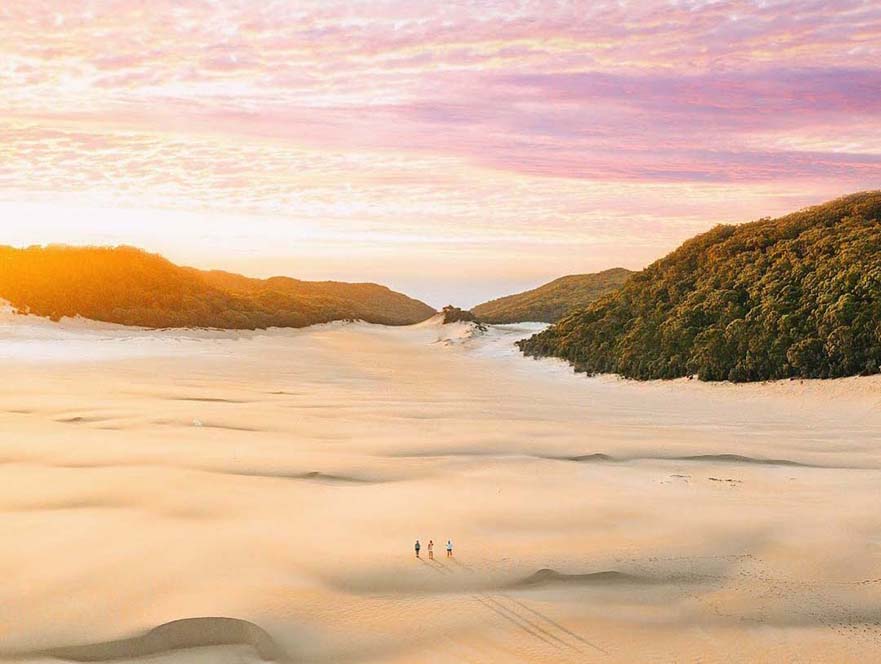 Can you believe that the Cooloola Great Walk is Noosa's neighbour? The Cooloola Recreation Area lies between Tewantin, near Noosa and Rainbow Beach in the Great Sandy Biosphere. Up to 102km long, this vast walking track winds through rainforest, eucalypt forest, dry coastal woodland and heath plains.
This remote trail will take you over the eastern high dunes of the Cooloola sand mass, between the upper Noosa River and the coast. Feel like you're on another planet within this diverse landscape and get ready to marvel at the giant Cooloola sand mass, one of Queensland's largest accumulations of wind-blown sand, built up over 500,000 years – impressive! It also supports unique dune, lake and vegetation systems. Climb over these immense sand blows, come upon perched lakes and long sandy beaches offering mesmerising views of the Cooloola coastline.
While you can camp along the way, you can also explore some of the highlights on the walk as part of a day trip, and you don't even need a 4WD to reach the Cooloola sand patch. Just make your way to the Cooloola Recreation Area carpark at Elanda Point on Lake Cootharaba. You can access the kayak launch and several walking trails from here.
Noosa Accommodation
You can easily get to any of these Sunshine Coast walks and biking trails from our holiday homes.
Choose from a large range of Noosa accommodation, scattered along the Eastern beaches. Many of our homes offer spectacular ocean views and private pools – all our homes offer you a chance to experience Noosa like a local.
Ready to start your hiking or biking adventure?
Featured image: Photo Bohemian
Images: Visit Noosa / Mrdanieldawson – Mary Caincross Reserve