Pet-friendly accommodation Noosa, it's one of the most popular searches for holiday makers looking to bring their furry friend along on their family getaway! Luckily, we have a great selection of pet-friendly accommodation available along Noosa's Eastern Beaches, ranging from family-affordable to luxury.
All of them are near a beach and all offer a secure environment for your pet. In general, there is a grassed area within the house's boundary, or a courtyard of some design, to allow your pet to roam securely outside.
"We like to unwind and relax on our holidays, and that's much easier to do when Rose is with us. Yes, it means we don't need to worry if she's okay and we don't need to feel guilty about "abandoning" her. But it's more than that – her delightful antics keep us smiling all day long.

It's not always easy to find a holiday home that's truly pet-friendly, but it's worth the effort to find somewhere with a nice lawn for Rose to run around (and go to the bathroom), hard floors that she can't damage, and plenty of comfy spots for her to snuggle up near her humans. We also look for a place that has a dog park or dog beach within easy walking distance, and some pet-friendly cafés or restaurants." says Tamyka.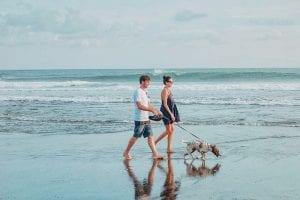 Some properties have specified pet size and number restrictions so please check this when enquiring about our pet-friendly accommodation.
Our pet levy ranges from $77 to $100 per pet, per stay. In general, pets are allowed inside the property but again please check this when enquiring.
Dog-friendly parks, beaches and cafes
Sunshine Beach
One of the most popular off-leash beach areas can be accessed at the Northern end of Sunshine Beach (use Beach Access Point 27 on Seaview Terrace). Parking is available here but our Sunshine Beach pet-friendly accommodation is all within a 5-15 minute walk from Seaview Terrace. Pet-friendly cafes in Sunshine Beach include The Deck on Duke Street in the main Village, and fomo and Costa Noosa further up the hill.
>> View map
Sunrise Beach
(Beach Access Point 38) offers a much larger off-leach beach area, from the Southern end of Tingira Place all the way down to and past Castaways Beach. This area is also popular with kite surfers and surfers but is not patrolled. Stop off at pet-friendly Chalet & Co cafe for your coffee first. Parking is available.
>> View map
Popular on-leash areas include Rainbow Park in Sunrise Beach, which also features a children's playground. The path from here connects to the coastal walking/bike path between Sunshine Beach and the beaches to the South, making a good length walk for the whole family.
>> View map
Close to Hastings Street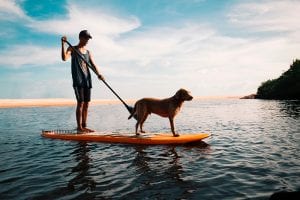 The Dog Beach on the Noosa Spit, accessed via Claude Batten Drive in the Noosa Woods at the Western end of Hastings Street, offers calmer waters to the Eastern surf beaches. This is a lovely place for dogs and their family to cool off on a hot day. There is plenty of parking in the Noosa Woods or you can access the area on foot.
>> View map
There are also a number of off-leash grassy park areas in and around Noosa.
Noosa Heads
Alex Dan Park on Cooyar Street is very popular with 4-legged friends. There is also a small children's playpark here so everyone will be kept happy! Parking is available.
>> View map
Lake Weyba
Creek Road Park on Lake Weyba's foreshore is another lovely place for enjoying a picnic and a swim, fish or kayak in the shallow Lake. There is lots of shade and grass so it's a great place for dogs, and kids, to let off steam. There is parking available or the area can be accessed via the Eenie Creek walking/bike path.
>> View map
Peregian Beach
Peregian Beach also has a large on-leash beach area approved for dogs. There is a children's park next to the main beach access point in the Village, and plenty of great cafes, including pet-friendly Baked Poetry Cafe, for mum and dad to grab a coffee from!
>> View map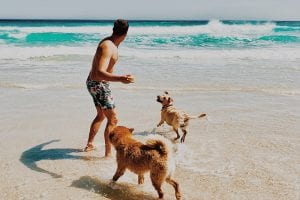 For more information head to the Noosa Council website for a full list of local parks, both on- and off-leash, and suitable beach areas for dogs.
And don't forget to check out the Surfing Dogs at the world-famous Noosa Surfing Festival, held in early March each year - it's a highlight of the festival with the dogs stealing the show!
Dogs must always be under control whether on or off the leash and owners are responsible for the behaviour of their dog. Of course, dog owners must always carry a poop bag with them and clean up after their dogs or face hefty fines!
Pet-Friendly Accommodation Noosa - Search our top picks!