Noosa Junction (known locally as 'The Junction') is Noosa's official business district. But it's often overlooked as a place to visit by holiday-makers, being overshadowed by its big sister Hastings Street.
Favoured by Noosa locals as a one-stop precinct for all of their everyday needs, the Junction is a bustling hive of activity.
Take a wander and you'll find an eclectic range of boutiques, cafes, bars, restaurants, art galleries, interior stylists, beauty salons, surf outlets, health food shops, and much more.
In addition to locally-owned stores, you'll find more well-known brands such as Target, Coles, IGA, BWS and the Commonwealth and Westpac banks.
The Junction is also home to Noosa's only cinema, as well as event venue The J, which has hosted local and international comedians, musicians and other acts over the years.
For gym junkies, Noosa's only independently-owned and super-friendly Frank's Gym on Lanyana Way offers casual passes for visitors from $24/day.
The Noosa Transit Centre is found in the heart of the Junction. You can jump on a bus here to anywhere in Noosa, or travel further south to Maroochydore, Brisbane and beyond.
During the Christmas school holidays, most of the buses around Noosa are free and there is a park + ride facility based in the Junction with plenty of parking available.
Noosa Junction Twilight Market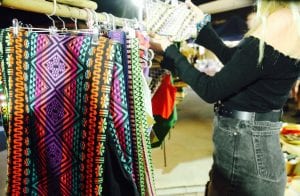 The highlight of the Junction's social calendar is the popular Twilight Market. Organised by the Noosa Junction Association and held on the 3rd Friday of each month in Arcadia Street, in the heart of the Junction, this vibrant market is a great place to sample local food and wares.
Live music keeps the family-friendly crowd entertained well into the evening and there is a pop-up bar serving drinks at happy hour prices all night long.
Arcadia Street itself is home to a number of cosy bars that feature locally-brewed beers and a good selection of wines, accompanied by tasty eats. Check out Paradise Arcade, Telephone Call from Instanbul, and newcomer The Steamed Bun Company. All are open during the Twilight Market and are great places to sit and watch the world go by.
Boring Walls
Fans of murals should check out the ''boring walls'' that have been transformed around the Junction by talented local mural artists.
Turkey Lane with its Noosa icon the brush turkey, Arcadia Street with its kingfishers (look up!), and others at CLO Studios on Lanyana Way (recently featured in a BMW TV campaign), and the Village Bicycle pub on Sunshine Beach Road (in its beer garden). The artists were assisted by students from a local school.
Turkey Lane (Brush turkey)
Drifter Lane, between Mr Drifter & Sushi Yah-man (the ship in a storm)
Kingfisher Square (Arcadia Street, above Eddie Cheebas)
CLO Studios (also known as "Love Lane")
Cactus Lane (next to Frank's Gym)
Grasshopper (behind Vanilla Foods)
Turtle (Frank's Gym)
Village Bicycle (Beer garden)




Getting there
Noosa Junction is a 15-minute walk to/from Hastings Street. Or jump on one of the local buses from the main bus stop on Noosa Parade opposite the Noosa Lions Park (626, 627, 620).
From the centre of Sunshine Beach on Duke Street it's a 25-minute walk along a shaded pathway that follows David Low Way to Sunshine Beach Road. Or take the 627 bus.
Noosa Junction Holiday Accommodation
Sunshine Beach Accommodation manages a number of properties close to Noosa Junction, in Sunshine Beach and along the Eastern Beaches.
View all of our Sunshine Beach Accommodation listings