Are you searching for beachfront accommodation Sunshine Coast? Then how about exploring Noosa's Eastern beaches, where you'll find a fab selection of beachfront accommodation from Sunshine Beach to Peregian Beach.
Can't bear to leave your pooch at home? Then don't! Want to indulge yourself in a luxury pad? Then do! Just NEED some beachfront accommodation? Then take your pick…
From pet friendly to luxury and everything in between, we've got the ultimate beachfront accommodation Sunshine Coast.
Beachfront pet friendly accommodation
If the thought of leaving your poor dog at home is too much to bear while the rest of the family is having fun on holiday, then bring them with you. The Noosa region is very accommodating for dogs and there are plenty of off leash areas that are very close to our pet friendly accommodation.
Choose from several holiday homes that can sleep up to 8 guests, most of which have gardens and most importantly are a short walk to the beach – yah!
Checkout our featured beachfront pet friendly accommodation:
         
Sleeps 8 | 4 Bed | 3.5 Bath | Ocean views                                    Sleeps 4 | 2 Bed | 1 Bath | Ocean views
15 Mariners Place, Sunrise Beach                                                22 Adams Street, Sunshine Beach
Luxury beachfront accommodation
We all like to indulge ourselves every now and again right? Whether it's for an anniversary, birthday celebration or just because…sometimes only pure luxury will do! Our luxury beachfront accommodation can offer you that blissful feeling you get when you know you're somewhere special.
Located in a spectacular location in the Sunshine Coast, Noosa's Eastern beaches are some of the most stunning in Queensland. So, spoil yourself with our selection of premium beachfront homes that offer spectacular ocean views, private pools, spas and high attention to detail throughout.
Checkout our featured beachfront luxury accommodation: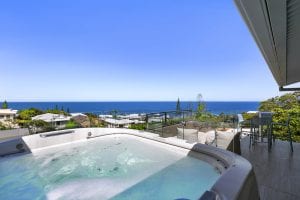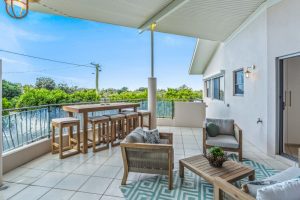 Sleeps 6 | Rooftop Spa | Plunge Pool                                     Sleeps 10 | 5 Bedrooms |  Kids Hideaway
3/41 Belmore Terrace, Sunshine Beach                                 30 Kingfisher Drive, Peregian Beach
Beachfront accommodation Sunshine Coast
If you're not sure what type of holiday home you want, but you know you're not willing to compromise on beachfront, then you're in the right place!
All our homes will offer you that laidback and rejuvenating holiday you've been craving. There's nothing quite like the sounds, smells and sights of the sea. So, when you can wake up to the ocean every day, every day is a great day!
Beachfront accommodation Sunshine Coast – Are you ready to find your dream home?